About
Welcome to Painted with Love by Lisa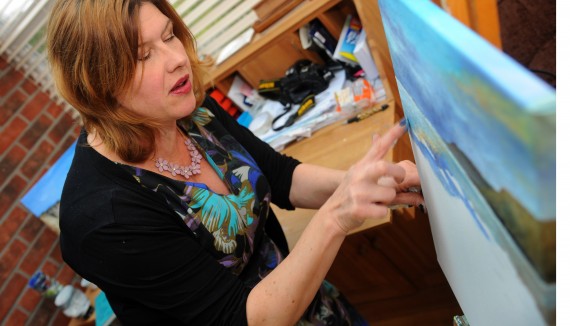 So where does my art story begin? A couple of years ago I started a small craft business on facebook. It soon became clear that my followers enjoyed my paintings and this encouraged me to paint more and to create images on a larger scale. My paintings started selling well, and I began to work on a commission basis too. Over time, I have found that I am being drawn to abstract ideas and the recent response to my abstract compositions has been hugely encouraging.
Each time I start a new painting, it is always with a strong emotion in mind. I aim to produce beautiful attention grabbing contemporary artwork. I strive to incorporate movement and energy onto the canvas, aiming to capture a passionate moment and to portray it with texture, colour and shape. I use fingers, brushes, palette knife and sponge, whichever feels right at the moment. I work in my conservatory in Norfolk, England, where I am inspired by the sweeping Norfolk landscape and coastline, by the sunshine and the dramatic skies of this beautiful county. I paint on all scales, often on a commission basis, but my favourite pieces are large and striking.

I work on box canvas and on textured paper, using acrylic paints with gesso and heavy structure gel. My favourite colours are teals and turquoises, which sing out in most of my compositions, either as a colour theme or in contrast with yellows, oranges and reds.

I studied environmental science at the University of East Anglia, which reinforced my lifelong love of nature, before training to become a teacher. Now I write novels for young adults and I teach creative writing to Gifted and Talented Children. I am also a full time mum with three lively daughters.
If you're interested in buying my artwork or commissioning a painting, please browse my website and get in touch, I'd love to hear from you. You can also contact me at [email protected] or by calling 01953 602313